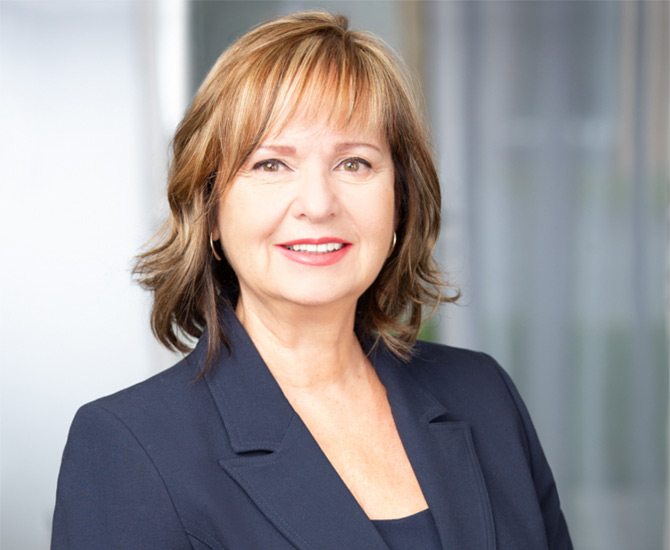 Experience built on solid ground
Here is an out of the ordinary profile, dotted with achievements and eloquent recognitions, as much in construction and real estate development, as in real estate brokerage. An extensive career, summed up in a few lines and demonstrating a high satisfaction of her clientele.
Indeed, before transitioning in 2009 to real estate brokerage, for more than two decades Diane initially acted as a masonry contractor accredited by CMHC for the removal of the UFFI, then became a high-end custom home builder, as well as a real estate developer and promoter.
Often recommended by one satisfied client to another, this led her to build over a hundred high-end custom residences. Her exceptional achievements are now among the most remarkable homes of Rosemère, Westmount, Pointe-Claire, Beaconsfield, Dollard-des-Ormeaux, Ile-Bizard, Saint-Bruno, Sainte-Adèle, Sainte-Dorothée and Laval-sur-le-Lac. Imposing mansions of incomparable quality that elegantly stand the test of time and are for the most part still inhabited by those who entrusted her with the mandate to build their dream home. This alone says a lot about her know-how and care to details!
Raising quality standards, she became the winner of one of the most coveted awards in construction, a DOMUS trophy of APCHQ: Builder of the year, luxury homes. Indeed, in 1995 she became the First woman in the province of Québec to win a DOMUS.
Subsequently, she won DOMUS and ÉMÉRITE trophies on 8 other occasions, awarded respectively by the ''Association des professionnels de la construction et de l'habitation du Québec (APCHQ)'' and the ''Association de la construction du Québec (ACQ)'', with awards ranging from High efficiency project of the year, Residential project of the year, Multifamily project of the year, Condominium project of the year, as well as a few times the coveted Entrepreneur of the year, luxury homes.
Like a fish in water
When you know how to build a first class property and develop land, when you have undertook challenges of all kinds, such as; drafted/published co-ownership declarations, obtained financing for multi-residential projects, zoning changes and a hundred building permits, dealt with dozens of parties for the planning and execution of each project, and when you also designed, sold and built these properties for buyers, aren't you now in an excellent position to provide enlightened advice and facilitate real estate transactions for buyers and sellers? Certainly!
Therefore, in 2009 Diane decided to share her career's hard-earned experience and becomes a Chartered Real Estate Broker, then an Agency Executive Officer (AEO). Diane has quickly distinguished herself with a RE/MAX Hall of Fame recognition, and by re-investing herself with the passion, determination, dedication, integrity, and concern for excellence that made her reputation.
Diane has now successfully accumulated several hundred real estate transactions, ranging from the marketing and sale of new-built condominium projects and existing condominiums, the sale or purchase of prestigious single-family residences, plex and rental buildings, semi-commercial properties, rental of commercial spaces, as well as the sale or purchase of vacant buildings or sites to be redeveloped.
Authentic, Diane does not aim for high volume or number of transactions, but rather targets personalized quality service.
Each sale, purchase, or rental property transaction in which she gets involved for her client, regardless of its size, whether simple or overly complex, thus obtains a priority service to achieve the best results in respect of all parties involved.
Involved in evolution
After a few years on the Committee of the IC&I Commercial group of the Greater Montreal Real Estate Board (GMREB), elected President of said group in 2018, her presidency was extended to the provincial level in 2019 within the Commercial Group of the Quebec Professional Association of Real Estate Brokers (QPAREB).
Since then, Diane organized and hosted member's meetings, as well as the QPAREB Commercial Real Estate Forum, an annual event attended by a few hundred brokers particularly active in commercial real estate.
As a volunteer, indeed she is pleased to share her passion with other real estate brokers, but this also allows her to build up a solid network of professionals from all over the province of Québec, thus staying on the lookout for opportunities and new technologies, market trends and best practices in real estate brokerage, all generating great opportunities for her clients.
Diane is also the author of several professional development programs, such as La Vente Parfaite (The Perfect Sale), La Négociation Stratégique (Strategic Negotiation) and Attitude Client (Client Attitude), which have been followed by tens of thousands of participants over the past 20 years.
In the heart of the business district
In 2021, Ms. Sabourin has abandoned the role of Agency Execute Office in order to devote herself fully to her clients, while accepting a position of Vice-President for the Commercial Division of the RE/MAX L'ESPACE real estate agency with offices throughout downtown Montréal.
Since 2014, Diane's private office is located on rue Saint-Jacques, in the heart of the Business district of the city and Old-Montréal, where you can count on her professional support for your next real estate project.
No matter the size, your upcoming real estate transaction certainly will have an impact on your wealth and peace of mind, and for Diane giving you the best advice and all the attention you are looking for when choosing a real estate broker is a priority. Diane's reassuring human approach will convince you to move forward safely, while taking advantage of her experience built on solid ground.